About Bharati Vidyapeeth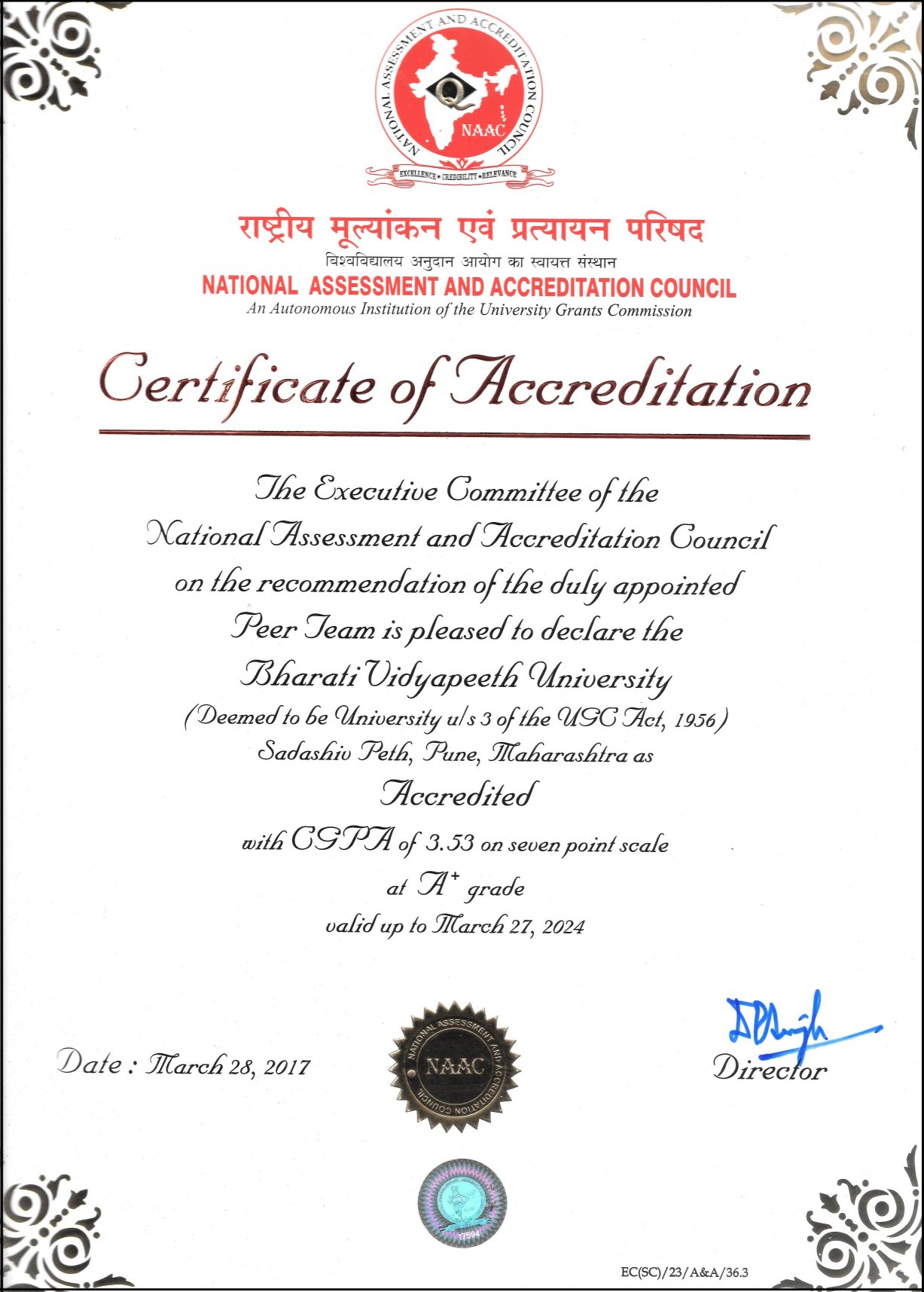 Bharati Vidyapeeth, the parent body oBharati Vidyapeeth University was established on 10th May, 1964 by Dr. Patangrao Kadam with the objective of bringing about intellectual awakening & overall development of the people of our country through education.
Bharati Vidyapeeth is now a leading educational institution in the country, which has created history by establishing within a short span of 40 years, 180 educational institutions imparting education from the pre-primary stage to post graduate stage. Our colleges and institutions of higher education impart education in different disciplines including Medicine, Dentistry, Ayurved, Homoeopathy, Nursing, Arts, Science, Commerce, Engineering, Pharmacy, Management, Social Sciences, Law, Environmental Science, Architecture, Hotel Management and Catering Technology, Physical Education, Computer Science, Library Science and Information Technology.
These educational institutions which have achieved an acclaimed academic excellence cater to the educational needs of thousands of students coming from different parts of India and abroad. Our teaching faculty includes highly qualified, experienced, dedicated and student-caring teachers.
These educational centres are located at various places viz. Pune, Navi Mumbai, Kolhapur, Solapur, Sangli, Karad, Panchagani, Jawhar and New Delhi. The spectacular success achieved by Bharti Vidyapeeth is mainly due to division foresight, exceptional leadership and able guidance of the founder who has dynamic personality i.e Dr. Patangrao Kadam.
It has been our constant endeavour to impart high quality education and training to our students and so, no wonder that our institutions have become nationally and internationally renowned for their academic excellence. In recognition of the academic merit achieved by these institutions and potential for development which they have, the Department of Human Resource Development, Government of India and the University Grants Commission of India have accorded the status of a deemed to be university to Bharati Vidyapeeth with its thirty two constituent units. Besides these 180 educational institutions, Bharati Vidyapeeth has been also successfully operating a Co-operative Bank, Co-operative Consumer Stores, a Co-operative Poultry, a Co-operative Sugar Factory, Charitable Hospitals and Medical Research Centre and the like.
As mentioned earlier, the Department of Human Resource Development, Government of India on the recommendation of University Grants Commission accorded the status of Deemed University to twelve units of Bharati Vidyapeeth (vide their notification No. F.9-15/95-U.3 dated 26/4/96 under the Section 3 of the University Grants Commission Act. of 1956).
Subsequently, the Govt. of India on the recommendations of the UGC and AICTE brought three more institutions of Bharati Vidyapeeth within the ambit of Bharati Vidyapeeth University vide their letter No. F9-15/95-U3 dated 28th July,2000.
Our Constituent Units
Bharati Vidyapeeth's Medical College, Pune
Bharati Vidyapeeth's Dental College & Hospital, Pune
Bharati Vidyapeeth's College of Ayurved, Pune
Bharati Vidyapeeth's Homeopathic Medical College, Pune
Bharati Vidyapeeth's College of Nursing, Pune
Bharati Vidyapeeth's Yashwantrao Mohite College of Arts, Science and Commerce, Pune
Bharati Vidyapeeth's New Law College, Pune
Social Sciences Centre (M.S. W.), Pune
Poona College of Pharmacy, Pune
College of Engineering, Pune
Institute of Management & Entrepreneurship Development, Pune
Yashwantrao Chavan Institute of Social Science Studies & Research, Pune
Research and Development Centre in Pharmaceutical Science and Applied Chemistry, Pune
College of Physical Education, Pune
Bharati Vidyapeeth's Institute of Environment Education & Research, Pune
Rajiv Gandhi Institute of Information Technology & Biotechnology
Interactive Research School in Health Affairs (IRSHA)
Bharati Vidyapeeth Medical College, Sangli
Bharati Vidyapeeth Dental College and Hospital, Mumbai
Bharati Vidyapeeth Nursing College, Mumbai
Bharati Vidyapeeth's Institute of Management & Research, New Delhi
Bharati Vidyapeeth's College of Architecture, Pune
Bharati Vidyapeeth's Institute of Hotel Management & Catering Technology, Pune
Bharati Vidyapeeth's Yashwantrao Mohite Institute of Management, Karad
Bharati Vidyapeeth's Institute of Management, Kolhapur
Bharati Vidyapeeth's Institute of Management & Rural Development Administration, Sangli
Bharati Vidyapeeth's Abhijit Kadam Institute of Management and Social Sciences, Solapur
Bharati Vidyapeeth's College of Engineering, New Delhi
Bharati Vidyapeeth's institute of Computer Application & Management, New Delhi
Bharati Vidyapeeth's Dental College and Hospital, Sangli
Bharati Vidyapeeth's Nursing College, Sangli
Bharati Vidyapeeth's Medical College, Mumbai
For more Information about Bharati Vidyapeeth, log on to www.bharatividyapeeth.edu